Born and raised in Southern California, bassist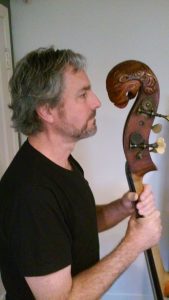 relocated to the Northwest in 2002 where he continues to make his living as a freelance musician. Equally comfortable in the classroom, stage or recording studio, Chris has stayed busy doing everything from teaching to playing on feature films. Notable projects have included recordings with Bill Anschell ("Rumbler" 2017), Johnaye Kendrick ("Here" 2014), James Knapp ("Scrape" 2013), and Nelda Swiggett ("Stingtet" 2014) as well as tours to South America with Anschell (2012, 2014) and Kendrick (2013).
Studies in jazz and classical double bass performance combined with a love for bass guitar have provided Chris with an appreciation of many styles of music and an ability to fit into almost any musical situation. His open minded approach has led him to the somewhat unusual practice of tuning his own double bass in fifths an octave below the cello, he remains fascinated by the tonal palette the tuning provides.