5049 6TH STREET CARPINTERIA, CA 93013
805-745-8272
beer@islandbrewingcompany.com
This is where we will hold our jam sessions. After eating dinner at the Cate School, we head down the hill to the actual town of Carpinteria to this celebrated establishment, located at seaside,
Here is a description of the place:
Island Brewing Company is a family-run, award-winning microbrewery in Carpinteria, California serving beer enthusiasts, bars, and restaurants along the beautiful Santa Barbara coast. We feature an assortment of fresh, flavorful ales, along with seasonal releases and occasional barrel-aged offerings at our tasting room, complete with a view of the Pacific and Channel Islands National Park. Our beers are distinctive, handcrafted, and made from the finest ingredients to insure the highest quality and have received awards from top beer competitions. Come visit and taste for yourself.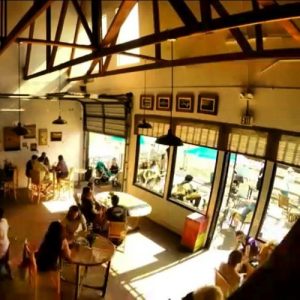 101 Southbound: Turn right off the Linden Avenue Exit. Cruise Downtown Carpinteria, park in Amtrak lot on right just before tracks. Walk inside fence following beer flags to people enjoying varying stages of frivolity.
101 Northbound: Turn left off the Casitas Pass Exit. Turn right onto Maple. Drive all the way down. All the way. There may be parking in front of the brewery, but a safer bet is to park outside or in the tiny lot on the side of the warehouse, or better yet head over to the Amtrak lot and walk over.